Enjoy the Serenity of Brazos River Camping
Brazos River Hideout has 750' of shaded riverfront Brazos River camping for RVs and truck tents. We keep the park below capacity by design to offer a better experience for our guests and to accommodate bigger groups who wish to camp together. Every RV site includes: 30/50 and 110 V electric hook up, water, wifi, picnic table and fire ring with grill, use of community pavilion, and outdoor shower (cold). Ice and firewood are available for purchase. Kayaks and Tubs available for rent. Come experience the serene environment steps away from the famous Brazos River, consider us for your next getaway. Check Availability and Book Today!

If you would like to camp but don't have an RV we can refer you to RV rental services in the area or you can rent our cabin or Lodge.
Photo Gallery – click images to view them larger.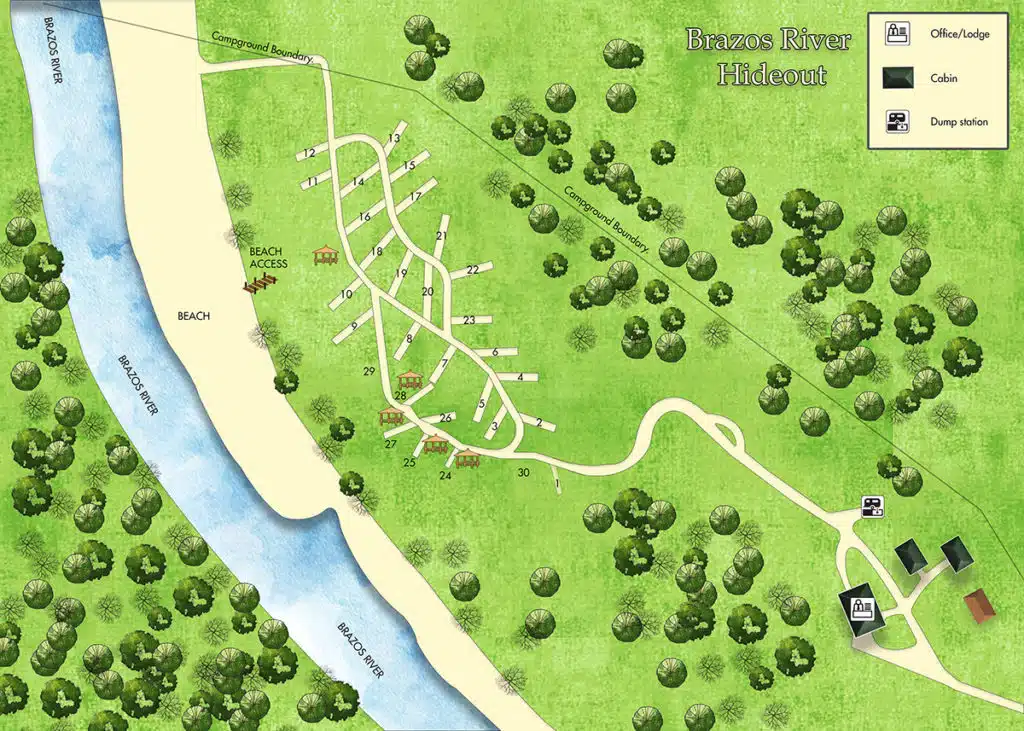 Campground Rules:
Pets:
No aggressive breed of dogs are allowed on the campground under any circumstance. BRH reserves the right to refuse admittance to any pets at its own discretion.
Pets are to remain on leash any time outside of RV.
Pet waste must be disposed of immediately.
Quiet Time & Conduct
Quiet time hours are between 10PM and 8AM on weeknights. 11PM to 8AM on Friday and Saturday.
Loud profanity, arguing, fighting or any behavior deemed threatening or abusive will not be tolerated. Guests will be required to leave immediately or law enforcement will be called.
Do not walk through other campsites.
River:
Swim at your own risk. BRH RV has no actual swimming area and there is no lifeguard. BRH is not responsible in any way for swimmers once they have entered the river bottom.
While BRH cannot enforce rules on the river, our expectations are the same as on campground property. Inconsiderate behavior to our neighbors and friends will be cause for barring form future camping at BRH.
Campsite Rules:
Only one RV per site.
No tent camping.
Any autos that do not fit on campsite may be parked in overflow parking at no extra charge.
No parking on roads.
Primary renter will be held responsible for any damages to property and clean up charges if campsite is left a mess – this includes cigarette butts.
RV Rules:
While there is no vehicle age requirement, all RVs should be well-kept and in good condition.
All campers must have only factory equipment and be in good working order.
RVs cannot have any water or sewer leaks and repairs cannot be made on property.
RVs must be inspected and have current registration.
Terms of Service: All guests must agree to our terms and service.
From our Manager: "My husband Bob and I fell in love with the area so much, that we now manage the RV Campground. The Lodge and Event Center is now complete too! The entire project took several dedicated people to make it all happen. We look forward to campers coming out to enjoy the river. We also offer monthly spaces!"