Things to do on the Brazos River and Nearby Glen Rose, Texas
Welcome to the Brazos River and Glen Rose, Texas! Come stay with us and enjoy the amazing sights, sounds, flavors and recreation that the area has to offer. From things to do in Glen Rose TX like shopping and dining in the Downtown Square and Historic District, to fishing and kayaking on the Brazos, you'll find days of activities to fill your vacation time.
Discover All There is to See and Do Nearby:
On-site Things to Do:
Depending on river conditions there are different trips available with us, or some of our partners. Bring your own kayak/inflatables or rent them from us or our partners. Call us for more info!
Float the Brazos! Our stretch of the Brazos makes us the perfect spot to spend a day on the river.
River Beach: Our natural sand/gravel beach is present under most flow conditions and is a great spot to hang out. Bring your beach towels, chairs, canopy, cooler or rent a full set-up from us.
Picnic! Each spot has a picnic table, or take your picnic down to the river, or enjoy it on the lawn or in the pavilion.
Air Boat: The property owns a 18″ American Airboat with seating for 6. We are gauging customer interest in river tours, please let us know if you would be interested!
Fishing:
Brazos has a reputation as one of the best fishing rivers in Texas. Our particular location on the river has deep holes nearby where you can catch 10 different species of fish. Bring your own gear and fish at the property or we can set you up with our partner guide service who offers full and half day fly fishing trips. The trip is called a "mixed bag" adventure because Bass, Trout, Gar, Cats, and Crappie all eat some of the same bugs, you never know what species is going to blow up your fly!
Species: Carp, Crappie, Flathead Catfish, Freshwater Drum, Garfish, Guadalupe Bass, Hybrid Striped Bass, Largemouth Bass, Rainbow Trout, Smallmouth Bass, Smallmouth Buffalo, Spotted Bass, Striped Bass
Techniques: Artificial Lure Fishing, Fly Fishing, Sight Casting, Wading, Live bait
Required Items: Texas Freshwater fishing license, bait fishing gear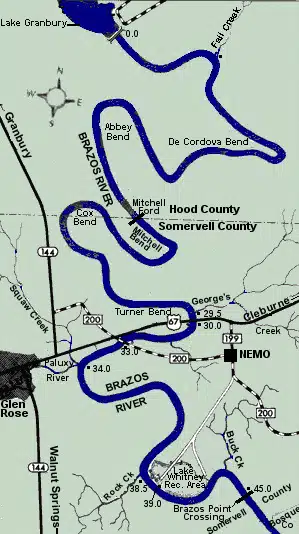 Floating the River:
When flow conditions are right the Brazos River offers a great opportunity to float or kayak the river. At BRH we are working on providing customers with a shuttle service for these trips, but do not have all the pieces in place at the moment.
Currently we have plenty of tubes and a few kayaks to rent. Guests can put in at the property and take out at the public access on the 67 Bridge, but would be responsible for their own transportation back to the park. There are also a few outfitters nearby that offer different trips depending on river conditions. Please contact us for more details.
| Flow Guidelines: | |
| --- | --- |
| <100CFS | Kayak Pool to Pool |
| 200CFS | Minimum Flow for Tube Floating, Unimpeded Kayaking |
| 400CFS | Optimum Flow |
| >1000 | Dangerous Flow Conditions |
Brazos River Map Courtesy of the Texas Parks & Wildlife Department
Brazos Rv ds Lk Granbury nr Granbury, TX
Streamflow: 11.7 ft³/s
Gage height: 10.67 ft
USGS
Dinosaur Valley State Park:
Walk in the actual footsteps of the dinosaurs at Dinosaur Valley State Park. Opened to the public in 1972, the park boasts some of the most pristine dinosaur footprints in the world, with four major trackway sites featuring collections of two or more consecutive tracks. You are allowed to swim anywhere on the river unless stated or roped off, but the most popular swimming area is the Blue Hole. An old-time swimming hole that's 20′ with clear water.
Other Things to Do in Glen Rose TX and Nearby: